The dermalight© 80 UV-comb for effective phototherapy from Dr Hoenle
The UV-comb is a specially designed device to treat the scalp. The removable comb attachment provides for a defined distance to the scalp and for continuous parting of the hair during treatment.
The dermalight© 80 is equipped with either UV-A or UV-B 311nm lamps, which covers a broad range of therapy applications for a variety of different indications. Easy to handle and to clean, the dermalight© 80 is the ideal device for the home user.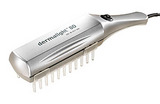 Special characteristics:
Short treatment time

Lightweight and handy construction

Light-guiding, rounded comb attachment for a smooth and precise spot treatment

Use without the comb for treatment of body parts

A cost effective solution and Ideal for in home therapy

Plexiglass plate over the the lamp to protect against direct contact and contamination
The scope of delivery contains the UV comb, the comb attachment, the UV protective goggles and the lcd timer.
The unit is available with the following lamp types
UV-B / 311nm narrowband

UV-B broadband

UV-A

Woodlight
HMRC permits orders for medical devices intended for use by private individuals within the UK (including orders on behalf of close family members) to be exempt from VAT as per VAT Notice 701/7, "VAT reliefs for disabled and older people". As part of the order process, we will provide you with a declaration form stating that your purchase will be for personal or domestic use only.
We are also able to provide the replacement lamps for your existing Dr Hoenle device as well as replacemnt comb attachment.
If you require any further information, please do not hesitate to contact us.